Remodeling trends are always changing no matter what project you take on. It can be challenging to balance both trendy and classic design as you complete your kitchen. Here are 3 trends we're loving right now, which could easily be incorporated into other design elements you have in mind.
1. Open Shelving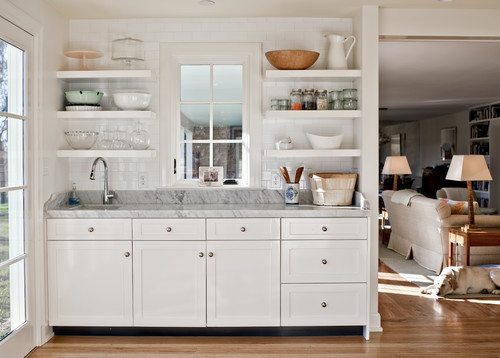 Open shelving is both stylish and practical. When shelves are open, objects in kitchens are more accessible. In addition, open shelving allows you to display glasses, dishes. and other accessories and creates a sense of airiness in the room.
2. Metallics
We're used to seeing more traditional metals like stainless steel and silver in the kitchen. In addition to these materials, now gold, bronze, and copper are also popular choices. They provide warmer tones that complement any color palette.
3. Modern-Traditional Style
An integration of traditional and modern style has been especially popular this year, and it has classic elements that are likely keep it around. Modern-Traditional kitchens employ clean lines and sharp angles for a contemporary look. At the same time, traditional elements keep the space feeling warm and inviting.
4. Wallpaper
We mentioned wallpaper in a recent post about bedroom design. Similarly, wallpaper has made a comeback even in the kitchen. It adds visual impact in small doses, making your space more interesting and stylish.
If you live in the Northern Virginia area and you're interested in a free estimate, or would like to know how Lensis Builders, Inc. can make your home even better, give us a call at 703-367-8999 or fill out a short contact form. If you're looking for inspiration for your next project, visit our Pinterest page.